fleeture© mobileAssistant
All warnings directly on your mobile Android device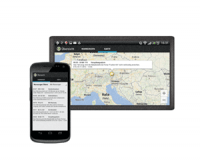 The fleeture© mobileAssistant allows all current warnings to be sent to your mobile Android device.
You can also respond immediately to disruptions even if you are not at your workplace.
Functions
You can define the period and alarm types you want to have displayed in the fleeture© mobileAssistant The current warning messages are displayed to you in an overview list and on a map. You can also display the route profile of individual vehicles as well as details of the order, the sender as well as the recipient and the driver.
Responding
The fleeture© mobileAssistant allows you to phone the relevant contact immediately from the detailed view of the warning and to send an e-mail. All relevant data is available to you at a glance; from the sender, from the recipient and from the driver.
Alarms
You can have the following alarms reported directly on the fleeture© mobileAssistant.
Late alarm
The route with the associated times is defined precisely in the fleeture© Portal. Should deviations arise for whatever reason, a late alarm is reported and you have sufficient time to intervene.
Corridor tracking
An alert is issued if the trailer leaves the predefined route, i.e. the corridor. You can then make contact with the driver.
EBS alarm
You will be notified if the EBS connector was not plugged in before departure. You can then contact the driver and therefore minimize wear and tear on the trailer.
Unplanned weight loss
The weight of the cargo is recorded in the fleeture© Portal. If your trailer is robbed and a change of weight is consequently detected outside an unloading area, you will be alerted.
Waiting period monitoring
The destination is recorded in the fleeture© Portal. The waiting period is logged automatically when the trailer is standing and waiting in the destination area. This allows you to document and calculate the waiting periods precisely.
Secure parking
If your vehicle comes to a standstill although you have defined secure parking areas for this transport, you will immediately receive notification from the system, including the current position of the vehicle.
Unplanned movement
If an unscheduled vehicle moves, you are one of the first to discover this thanks to our mobile solution. You can then respond immediately to this movement.