fleeture© Portal
The portal provides you with the perfect overview of your fleet.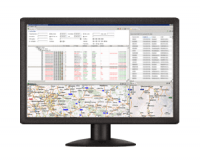 Control and track your fleet from the backoffice with the fleeture© Portal.
You have all of the functions you need for keeping track of your fleet, planning, receiving automated alerts and intervening where necessary.
Scheduling
We offer customer and fleet scheduling with fast and user-friendly grouping of customer order data, automatic calculation of volume, weight and loading meter data, system-aided consideration of resource constraints, Gantt representation for different views (fleet or tours), distance and toll calculations at the click of a button, interactive route planning directly in the map, simple tour creation with drag and drop and interactive dispatch planning.
Resource management
Manage all HGVs, trailers, swap bodies, drivers and passengers in the fleeture© Portal with system-aided planning of appointments, calendar display of all existing appointments for resources and individual grouping of resources. All appointments are considered in all the other portal modules. In addition, we offer the escalation levels "Warning" and "Block".
Digital dossier
This function allows your documents to be assigned electronically to a dossier or folder. Simply drag the files from the PC and drop them in the dossier. You can also make documents available to external users. A wide variety of different file formats (e.g. PDF, JPG, Word, Excel, e-mails) are supported with the data being saved in the database.
Asset history
The asset history provides an overview of all vehicle movements and the associated times. It essentially documents all operations. Waiting periods are also recorded automatically here. The route profile is illustrated on an interactive map, while the telematics based data is linked automatically with the customer order data. This gives you a historical perspective of the position, weight and customer order data and the associated times. Furthermore, all alarms are illustrated for a period defined by you, including position and timestamp. The asset history offers you integrated reporting with the option of exporting the data to all popular formats (e.g. XML, HTML, XLS).
Transit time control
This overview depicts all ongoing transport activities. Current location data is available to you at all times so that you can quickly calculate remaining route times. This includes land transport and combined transport (trucking), automatic monitoring of all loading and unloading points and other hotspots as well as calculation of the ETA and the distance to destination from every position. The route and distance calculation is conveniently performed online in the interactive map.
Automatic monitoring alarms
Late alarm
Corridor tracking
EBS alarm
Unplanned weight loss
Waiting period monitoring
Cargo planning
Find the correct HGV for your cargo. It's child's play with the map-based cargo planning tool to find the right HGV or trailer from a location and time perspective for the cargo in question. Simply select a customer order in the dispatch scheduler and fleeture© will show you all free vehicles in the defined radius of the loading point.
HGV planning
HGV planning is a map-based tool for helping you find the nearest cargo for your HGV. This means fewer empty runs and faster cargo intake. As soon as you select a vehicle in the dispatch scheduler, fleeture© shows you all unscheduled customer orders located in the radius of the vehicle unloading point defined by you.
Trucking planning
Trucking planning includes transshipment points at railways and ports to allow you to integrate trains and ferries optimally in your scheduling.
Route planning
We offer an intuitive search function for addresses, which takes account of your own data, customer-specific kilometer marking with user-definable routing profiles, different optimization variants, such as fastest, shortest, most favorable route, integration and use of own POI, parking and filling station data, country blocks, full consideration of intermodal transport such as rail and ferry, storage of recurring routes, precise specification of the route using via points and use of routes as corridors. All functions are available to you in combination with an interactive map.
Geo-fencing
You can define any areas yourself for an address in the form of circles, rectangles or polygons directly in the map in order to monitor when a vehicle enters or exits one of these areas. We also offer automatic zone creation and assignment of vehicles, so-called order-based geo-fencing, to all loading and unloading points. You can access your saved routes and can therefore create a corridor quickly. Zone points can be transferred directly from the map material. The corridors are assigned to sender/receiver relations and reused automatically. We also support client-based geo-fencing.
Geo-coding
This function provides job-controlled validation of all addresses contained in the system and identification of non-unique data. You receive proposed corrections automatically and user-friendly interaction with the map material in order to ensure correct transfer and definition of the address. This ensures clean data for the automatic geo-data based system services is available to you.