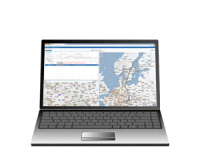 The
fleeture© WebPortal
represents the most important functions of the
fleeture© Portal
in the form of a website.
You can log in from any computer and access the functions independently of location.
Functions
The following functions are available to you in the fleeture© WebPortal.
Asset history
The asset history provides an overview of all vehicle movements and the associated times. It essentially documents all operations. Waiting periods are also recorded automatically here.
The route profile is illustrated on an interactive map, while the telematics based data is linked automatically with the customer order data. This gives you a historical perspective of the position, weight and customer order data and the associated times. Furthermore, all alarms are illustrated for a period defined by you, including position and timestamp. The asset history offers you integrated reporting with the option of exporting the data to all popular formats (e.g. XML, HTML, XLS).
Transit time control
This overview depicts all ongoing transport activities. Current location data is available to you at all times so that you can quickly calculate remaining route times.
This includes land transport and combined transport (trucking), automatic monitoring of all loading and unloading points and other hotspots as well as calculation of the ETA for each position.
Automatic monitoring alarms include for example:
Late alarm
Corridor tracking
EBS alarm
Unplanned weight loss
Waiting period monitoring
Unplanned movement
Secure parking alarm
Loading and unloading alarm
Advantages
Independently of location, you can continuously provide your customers with information and can intervene with greater flexibility should problems arise on routes.
Languages
The fleeture© WebPortal is currently available in the following languages:
Bulgarian, Croatian, Czech, English, German, Hungarian, Italian, Polish, Portuguese, Romanian, Russian, Slovak, Spanish, Turkish